The KidZone at Great South Bay is committed to excellence in
educational fun & children's entertainment.
Featuring world-class children's performers, puppetry, storytelling, and
hands on interactive activities, throughout the weekend.
Cheryl One Women Circus  1:30pm-2:00pm
Erin Lee & the Up Past Bedtime Band  2:10pm-2:45pm
I Love Reading & Magic  3:10pm-3:50pm
Lou Johnson  Magician  4:20pm – 5:00pm
Pirate Treasure Hunt  5:10pm – 6:10pm
Pirate Show   1:00pm – 1:30pm
The Mick Mags  1:40pm – 2:20pm
Funky Town Playground  2:50pm – 3:30pm
Pirate Show  3:35pm – 3:55pm
Jungle Gym Jam  4:00pm – 4:40pm
Pirate Treasure Hunt  5:00pm – 6:00pm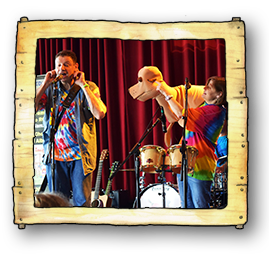 Does your child like to paint on the walls??
Well, they will love Great South Bays "Arts Wall".
Dress them in their painting clothes, we'll give them a brush and paints, and let them go create!